We're now in December and the whole country is AMAZED at how it's December already! Putting our collective shock to one side; Santa is dusting off the Sleigh and filling his enormous sack with goodies. IF you're like us and OBSESSED with wellies, then any one of these gifts would make you jump for joy on Christmas Day. So, without further ado. We have our Wellies.com Christmas Gift Guide:
For Him or Her, for FREE!
Our awesome "I do it in my wellies" T-Shirt. Buy any pair of boots from us and you can get this fan-dabby-dozey T-shirt for FREE! Impress all of your friends with this hilarious* T-shirt. Currently available in Small, Medium, Large and XL.
* May not actually be hilarious, the boss-man thinks he's funny… he's not. It's easier just to laugh along.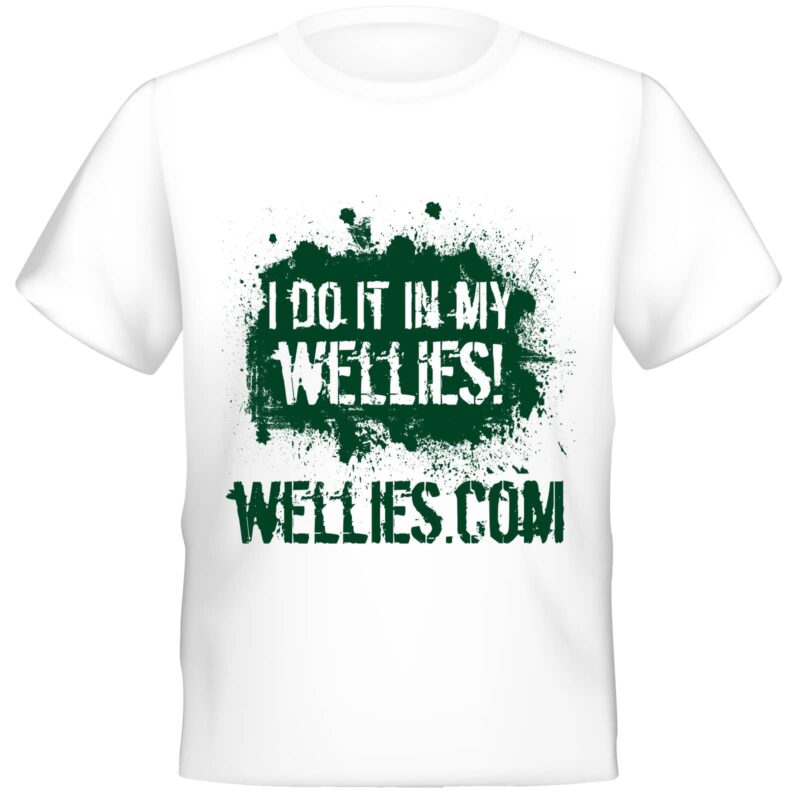 "I do it in my wellies" FREE T-Shirt can be selected during checkout.
For Him or her, under £20
It has to the be Welly Care Kit. £40 worth of gear for under £20 (£24.99 including postage, postage is free over £50). In the kit you have the welly boot bag, ideal for keeping your car boot clean. The boot jack, for when struggle to get your boots off, a welly care spray and sponge so you can keep your boots in tip-top condition and a nice thick pair of welly socks to keep your tootsies warm in the cold winter months.
For the gardener in your life, under £40
The Aigle Lessfor Gardening Shoe is ideal. I know it's winter now, but it'll soon be spring and when it comes you can chuck your significant other out in the garden while you relax and watch Netflix. It's available in Men's and Ladies and in Black or Khaki;
For the dog walker in your life, under £60
For those long walks with your four-legged family member. You can't go wrong with a pair of Grubs Frostline boots. These unisex wellies have an incredible tread, are very comfortable and feature a 5mm neoprene lining, so they're nice and warm. Available in many colours the Black and Green boots are available in sizes 3 – 13, whilst the Violet, Scarlett, Ocean and Fuschia are available in sixes 3 – 8.
For the Farmer in your life, under £80
The Muck Chore Classic High, is a unisex welly which is built for work. The boot features a reinforced toe, to offer some protection from crushing (this is a reinforced toe and NOT a steel toe. If you need a steel toe-cap boot, then others are available). The boot has a great all-round tread which is designed for wet and slippy concrete/hard surfaces. It's ideal for dairy yards and stable yards. It also has a 5mm neoprene lining, so it'll keep you warm too.
For the horsey person in your life, under £80
Grubs have combined a stylish country welly, with a practical riding boot in the Skyline. It's a ladies boot that's available in 2 colours and sizes 4 – 8. Your partner will love these boots.
For the Field Sports person in your life, under £100
The Hound Wellington boots are a great value boot. Hand-made in Europe and featuring a 4mm neoprene lining, these boots come highly recommended. They're the best option if you don't want to fork out for a pair of Aigles or Chameaus.
For the Field Sports person in your life, over £100
Everyone would be ecstatic to receive either the Aigle Parcours 2 Iso OR the Le Chameau Vierzonord. The Aigle Parcours 2 Iso is a unisex boot that features a 4.5mm thick neoprene lining. Hand-made in France these boots come with a 2 year warranty and are absolutely fantastic. The Le Chameau Vierzonord is available in men's or ladies, please be advised that the ladies boot has a slim calf, and when I say slim, I mean slim! If you need more advice on sizing, get in touch and we'll help! The Le Chameau boots are hand-made in Morocco and come with a 2 year warranty.
That's it for now! I hope I've inspired you!
Merry Christmas one and all!
Yours

Peter
Mr Welly