You can make your wellies last a very long time if you take proper care of them.
Try to store your boots out of direct sunlight and away from any heat sources, such as radiators or hot water pipes.
As the boots that we sell are all made from 100% natural rubber, they will naturally deteriorate with time.
To slow this process, it is worth washing the boots down with water (and a light detergent if necessary) when they get muddy or at least every 2-3 months. Then, when dry, spray them with a quality silicon-based spray (we sell Aigle Swipol and Le Chameau sprays). This will 'feed' the rubber and stop it 'crazing' and perishing, keeping it supple and completely waterproof.
If you have a zip in your boots, make sure you keep it clean and free from grit. When boots are clean, spraying the zip with the same silicon-based spray, waxing or using the amazing Ezip will keep it moving freely. It is worth noting that 95% of zip failures is down to grit!
The neoprene of Muck Boots and Grubs can be washed down as you would with rubber.
Repairing your Wellies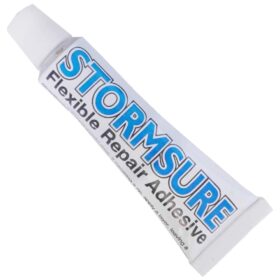 If you have been unlucky enough to damage your boots, you may be able to affect a repair to keep them watertight. However, if the rubber has deteriorated and is perishing, you might find that repairing a small area will just transfer the stress to another. You will have to consider buying a new pair…!
The most effective method for welly repair that we have found is by using 'Stormsure' (see our Accessories section). If you have split, torn or cut your wellies, if the sole is parting from the upper or even if you want to reconstruct your heels, Stormsure is the answer!
Stormsure will create it's own clear and flexible patch and will repair seams and stick soles to uppers, remaining flexible and waterproof.
What's more, it's very easy to use…
Clean off mud and dirt from the damaged area with a light detergent and water. Then clean well with a chemical cleaner, such as acetone.
Apply Stormsure directly to the area, allowing an extra 5mm around the damaged area. Keep flat and allow to cure. Stormsure is touch dry in 2-4 hours. Allow 10-12 hours for full cure.
Holes: Cover the back of the hole with sticky tape. Apply Stormsure on the other side, covering the tape and overlapping the edge of the hole by 10mm. Removing the tape after 12 hours will leave a flush surface on the back side.
To re-attach soles to uppers squeeze Stormsure into the affected area and place the boot on a flat surface and place a weight inside the boot to hold the repair together. Remove the weight after 12 hours.
To rebuild areas such as heels, use Stormsure in layers and allow each layer to cure before applying the next.
On completion: Squeeze contents right to the top of the tube and cap, leaving no air under the cap. Roll up the tube. Partially used tubes may be kept in the freezer. Warm to room temperature before using again.
Keep Stormsure in a cool dry place away from incompatible materials, direct sunlight and sources of ignition.
WARNING Contains Toluene and Isocyanates. Highly Inflammable. Harmful by inhalation. Avoid contact with eyes. After contact with skin, wash immediately with plenty of water. Do not empty into drains. The Technical Data Sheet is available when you purchase a Stormsure product.