Work for us!
This could be you! …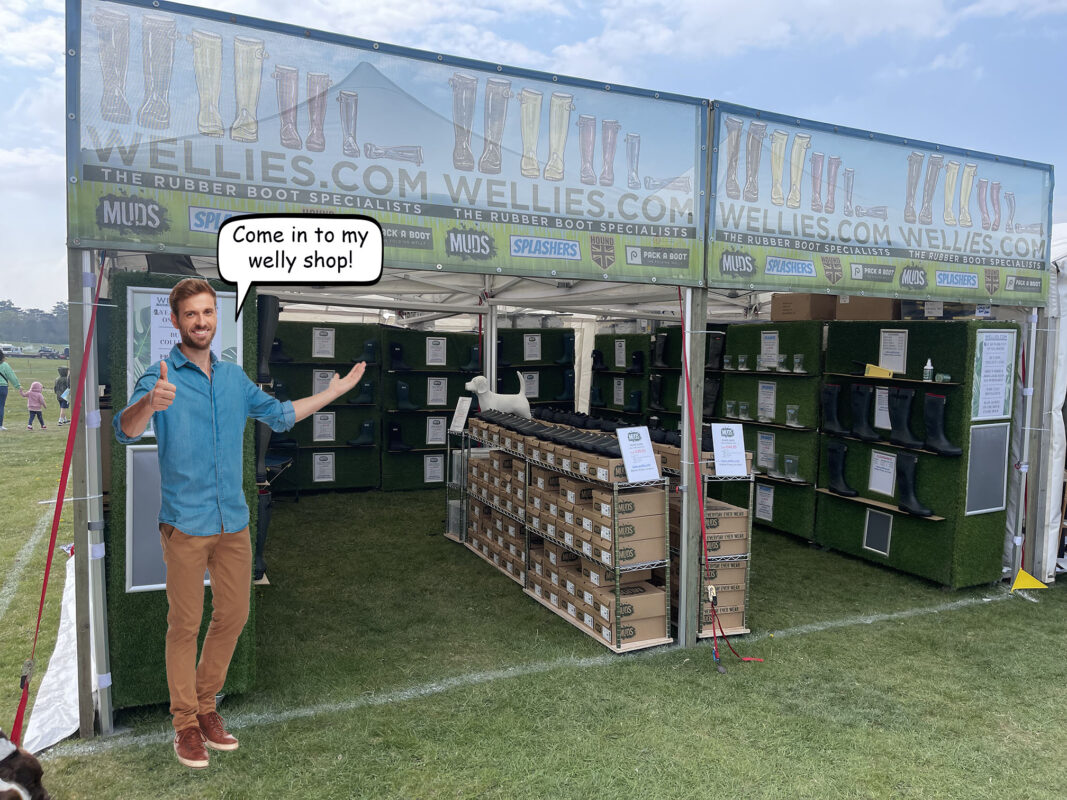 We are looking for people who would like to sell wellies at events that they are passionate about.
Say for example you LOVE dogs, and can think of nothing better than spending your weekend at a dog show. We want you to take our brand Wellies.com to the dog show and sell our boots to the public*. You get to enjoy the show (with free access to it) whilst making some money at the same time.
The job can be performed by 1 person, so only 1 person would be paid. However, you would get much more out of this if you brought along a friend/partner. This is for 2 reasons:
It makes the set up easier. Again, it can be done single-handed, but it's easier with 2.
The main benefit is that 1 person can man the stand whilst the other person enjoys the show, and you then can swap over.
* We're not just talking about dog shows, we're looking for people who have interests in:
Gardening Shows
Fieldsports (Game Fairs & Shooting Shows)
Agricultural Shows
Camping, Caravanning & Motorhoming
General Country shows
Music Festivals
Equestrian Events
Fishing Events
Remuneration
The day rate is £100 per day.
You'll also be rewarded with a share of the profits from the shows (10%)
You will be classed as self employed.
A typical show is 3 days long (1 day driving down & set up, then 2 day show, breakdown and drive home). As you're away from home for days at a time, it would suit someone without children or with grown up children.
A typical show goes like this:
Day before the show – Report to Oldham to pick up your van and trailer. You then drive to the showground. We do shows from Cornwall to Inverness, so you must be able to drive for long distances (while driving within the law with regards to hours). Once at the show ground you position the vehicles and then commence with the set-up. This includes the marquees and display units/stock. So you must be an efficiency worker and physically strong. The display units weigh up to 150kg and they are to be wheeled on grass. So it's not for the feint-hearted. We camp on site so, the next job is to set up your tent.
Show Day- Selling The punters will then flood in and you'll be selling wellies all day. So you'll be dealing with customers, talking about wellies, handling cash, issuing receipts etc. So you must be confident and likeable and a great salesperson.
More show days! – Some shows are 1 day shows, some are 5 day shows! Plus the set-up day and drive home days, so you'll be away from 2 – 6 days. With the typical show being 3 days.
After the show – Break down and pack away (the stand, not you). Once you're all loaded up it's a case of driving home if safe to do so.
Requirements
Must have a licence which enables them to drive a van and trailer minimum (B+E)
Should have experience in driving a van and trailer and obviously reversing with a trailer. It is not mandatory as training can be given.
Must be OK with/be able to drive long distances and drive within the law.
Must be physically strong as setting up the marquee and moving the cabinets is not easy to do. A height-advantage does help!
Must also have a good sense of safety. I.e. performing a risk assessment on the work that you do, ensuring that the set up is safe and will not blow away!
Must enjoy early starts! typically 7am
Must have an attention to detail when merchandising the stand
Must be a charming individual who can sell wellies to the public.
Must be able to keep it together under pressure
Must be trustworthy and organsied. Everything needs to be done in a methodical way.
Must be willing to learn about the products
Must be security conscious.
You must be OK with being away from home for 2 days to 7 days.
If you think you're up for this type of work, then please email me peter@wellies.com
Mr Welly
Owner
Wellies.com