Wellies.com Franchises
This could be you! …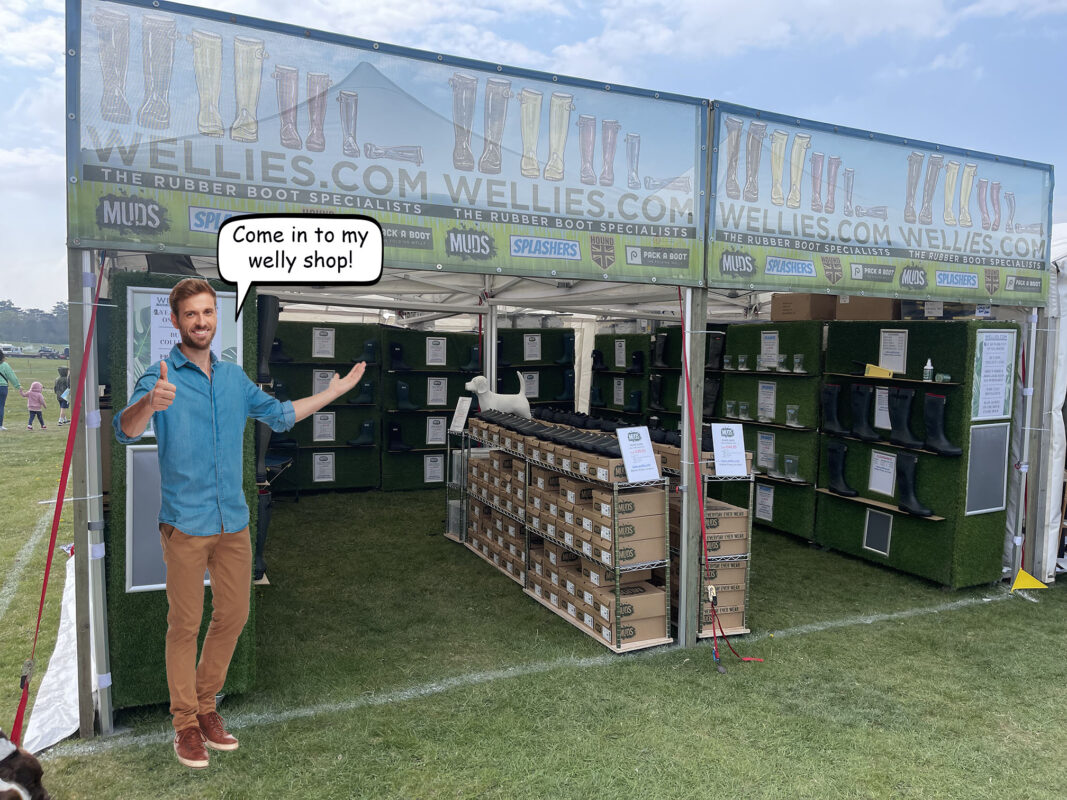 We are looking for individuals or ideally couples who would like to sell wellies at events that they are passionate about.
Say for example you LOVE dogs, and can think of nothing better than spending your weekend at a dog show. We want you to take our brand Wellies.com to the dog show and sell our boots to the public*. You get to enjoy the show (with free access to it) whilst making some money at the same time.
This is where it would be best suited to a couple (i.e. 2 friends or partners), for 2 reasons:
The set-up can be tough, so it makes it a whole lot easier with 2 people and
1 person can man the stand whilst the other person enjoys the show, and you then swap over
* We're not just talking about dog shows, we're looking for couples who have interests in:
Gardening Shows
Fieldsports (Game Fairs & Shooting Shows)
Agricultural Shows
Camping, Caravanning & Motorhoming
General Country shows
Music Festivals
Equestrian Events
Fishing Events
The first requirement from the right couple is that you MUST have a vehicle that you can tow a 3.5T trailer with and you MUST have space to store said trailer. It's quite a large box van trailer.
What we provide you with is the trailer, set-up, display units and stock. You also have access to our sales system and we come down to your first show and train you how to set up the show and sell wellies for the weekend.
The cost for the franchise is £0.
Wellies.com commits to paying for the stand space at shows in your genre. We also pay for fuel allowance for your vehicle to tow the trailer to/from the event and an expenses allowance of £25 per day for 1 person. If it's a 2 day show, then it usually takes 3 days, so you'll receive £75 for food & drink.
What this means is that we're putting all the money in for events and you're putting in all of your time. So it seems fair to us that the rewards is split 50/50. For example:
INCOME
Show Takings £7,500 inc VAT
Show Takings ex VAT £6,250
Gross Profit Margin 53%
Gross Profit £3,312.50
EXPENDITURE
Stand Space £1,224.00 ex VAT
Fuel Allowance £137.60
Food Allowance £125.00
Total Costs £1,486.60
Net Profit £1,825.90
50/50 split £912.95
So, you've spent 5 days at a dog/gardening/shooting/music festival/show and come away with £913 in your pocket.
A single team may have to do up to 20 shows a year, so we anticipate that you could earn up to £20k per annum.
REQUIREMENTS FROM YOU
Ideally have an interest in the shows that you cover
You must be available to work the shows that we want to be represented at
You must be physically capable of setting up the stand. This is involves erecting marquees and moving heavy show units (1 person can handle it, but it's better with 2)
You must already own a vehicle which can tow a 3.5T trailer.
You must have space to securely store said trailer (it's about the same size of a large car)
You must have the required licence to tow said trailer (which shouldn't be a problem as long as you have a normal car licence)
You must be OK with/be able to drive long distances and drive within the law.
You should have experience towing the trailer, this is not essential, but advisable
You should be comfortable with camping
You must also have a good sense of safety. I.e. performing a risk assessment on the work that you do, ensuring that the set up is safe and will not blow away!
You must enjoy early starts! typically 7am
You must have an attention to detail when merchandising the stand
You must be a charming individual who can sell wellies to the public.
You must be able to keep it together under pressure
You must be trustworthy and organsied. Everything needs to be done in a methodical way.
You must be willing to learn about the products
You must be security conscious.
You must be OK with being away from home for 2 days to 7 days.
NEXT STEPS…
Email peter@wellies.com and we'll get the ball rolling.
FAQs
I expect this page to create more questions than it answers. So if you are interested, then please email in and we'll go through the proposal in detail and answer any questions you may have. I'll then update this page with the FAQs.